Content Marketing for Hotels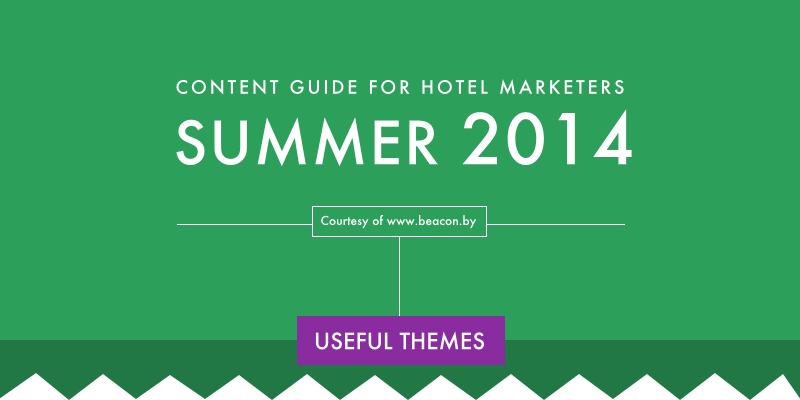 Summer is here and with it comes the hotel industry's busiest time of the year. We put together this content marketing for hotels action plan to help your marketing department create amazing content this summer. The guide includes content marketing ideas, recommended content marketing tools and actionable goals for you to work towards.

Transcript
Useful Themes for Hotel Marketers This Summer
Summer holidays
World Cup
Independence Day
Key Dates to Incorporate in Your Content Marketing for Hotels
4th July – Independence Day (USA)
13th July – World Cup Final
14th July – Bastille Day (France)
1st August – International Beer Day
Top Tips for Hotel Content Marketers
Cross pollinate content across various distribution channels. For example, use your Instagram photos to liven up an email newsletter and increase your awareness of your Instagram account.
Content Activities
Photograph a different dish from the hotel restaurant every other day
Goal: To grow your social media following by encouraging likes and retweets
Tool: Instagram
Distribution: Instagram, Twitter, Facebook, Pinterest
Interview with Key Staff Member
For example a spa therapist or general manager. Quick fire questions work best here.
Goal: Showcase expert knowledge of staff members to increase brand trust.
Tool: Company blog
Distribution: Email newsletter, Beacon magazine
Digital Magazine Targeted to Local Tourists
Focus on content that appeals to evening and weekend visitors (restaurant, live entertainment, family days)
Goal: Promote secondary services to customers who are unlikely to stay overnight
Tool: Beacon
Distribution: Email newsletter, company website, Twitter, Facebook