We have a confession to make.
We built software that allows people to convert blog posts into eBooks but our own blog is practically non-existent. Our strategy has been stop-start from the beginning and that much is obvious from our traffic.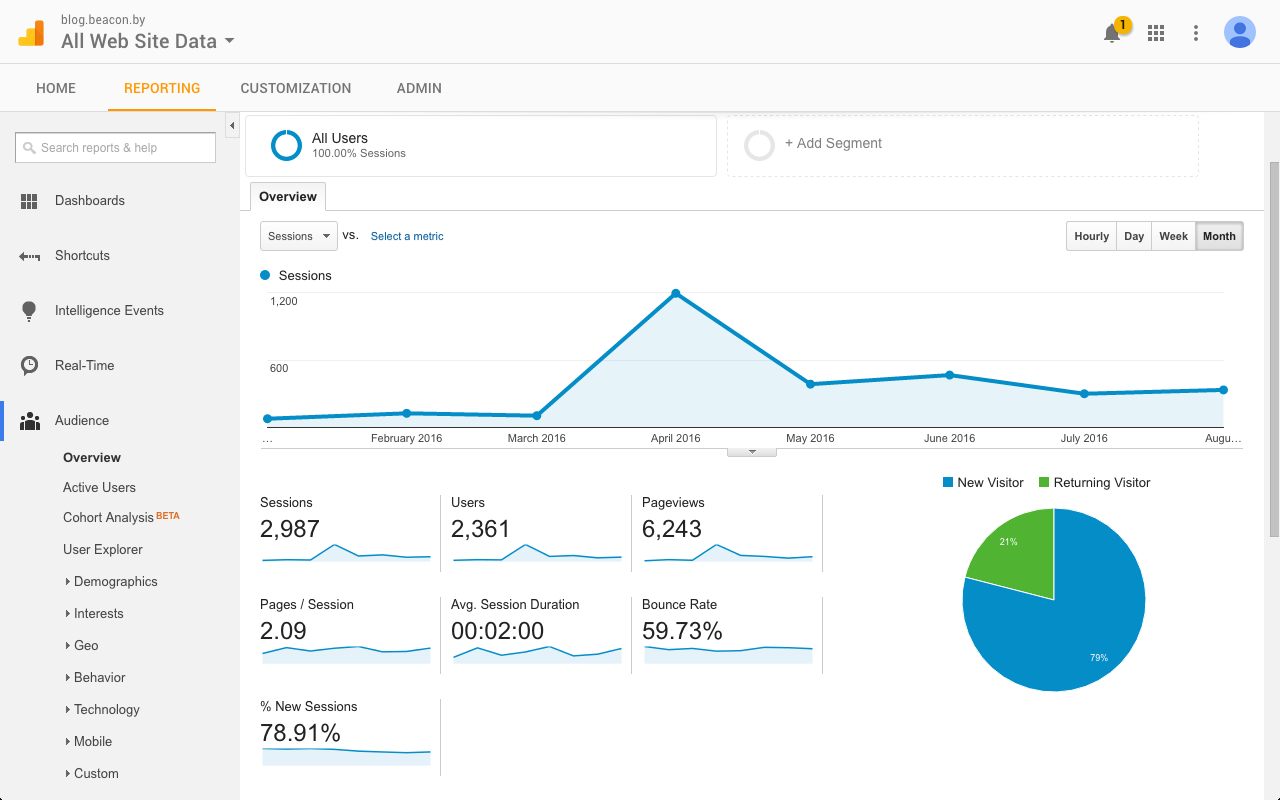 In the first 8 months of 2016 we published just 5 posts and averaged 780 page views each month. Most of this traffic came from a one off spike in April which didn't sustain in the following months.
The truth is that we made the same mistake that a lot of businesses do – we put the blog up without any real strategy or plan for making it a success. We had no idea how to grow a blog and when success wasn't immediate we soon lost interest.
Missed Opportunities
It's no secret that blogging is the most effective way to grow your business in a cost effective, sustainable manner. So by neglecting our blog we aren't just setting a bad example to our customers, we are ignoring the biggest potential resource for growing our business.
So, from a position of both embarrassment and ambition we made a resolution that from September 8th 2016, we would make a concerted effort to learn how to grow a blog so that it would be a genuine asset for our business.
Transparency
We'll be sharing everything we do on this journey. Things that work, things that don't. The mistakes we make and the lessons we learn.
We'll be sharing these details for 2 reasons:
1) Accountability
2) Shared learning
Accountability
In a small team where both members of staff are also co-founders, it's easy to focus on the tasks that you enjoy and neglect those that are outside of your comfort zone because ultimately we make the decision on what we work on at any given time.
In the past we have made a number of false starts with blogging, generally giving up after just a few weeks. To prevent that from happening again we are sharing our plans publicly in the hope that you dear reader will hold us accountable to continue with this experiment until we find success.
Shared Learning
There are millions of other businesses that find themselves in the same position as us, including our own customers. These are businesses with products, happy customers and bright hopes for the future. But like us, they're not sure how to grow a blog. Blogging is the elephant in the room, a growth strategy that requires so much time and commitment that most businesses can't sustain their early enthusiasm.
By sharing the highs and lows of our journey, as well as the details on the tactics we use throughout, we hope to show that it is possible to grow traffic to a blog even if you have neglected it for too long.
Challenge
To help with both accountability and to give us something to aim towards it's important that we set targets for this challenge. Here's what we're aiming for:
100,000 monthly page views
10,000 subscribers
We arrived at the page views figure because that is the level of traffic that we believe will bring a meaningful return to our business. We also think that it is an ambitious but achievable target. Not too easy, not too difficult.
We have set ourselves a target for email subscribers primarily so we can test opt-in techniques for our lead magnets. Not only will this help us to improve Beacon as a product, we can share what we learn with our customers.
Learn How To Grow A Blog Alongside Us
So that you can join us on our journey we will be sharing regular updates on our progress as well as making some of our dashboards publicly available, including:
Monthly page view update
Monthly subscriber update
If you want to receive updates as we learn how to grow a blog then please subscribe here.
If you have any other suggestions for what information we should make public then just tweet @beacon_by or use the hashtag #OpenBlog to let us know.
Here Goes Nothing
In the first of our #OpenBlog series we asked SEO expert Barry Adams to grade our blog for search engine visibility. We wanted to make his findings public so that other bloggers could learn from our mistakes.