4 High Impact Resource Libraries You Can Build Today

Beacon's resource library product comes with a choice of templates so it's easy to create a range of high quality content hubs in less than an hour. Here are four of our favourites.
#1: Lead Gen Library
This is the obvious one. A single page on your website that houses all your downloadable content. Think of it as an always-on lead gen campaign. New customers will conduct research on your website before buying and a Resource Library with instant search and dynamic filters helps ensure that customers can quickly find the content that they need most.
Recommended Template: Overlap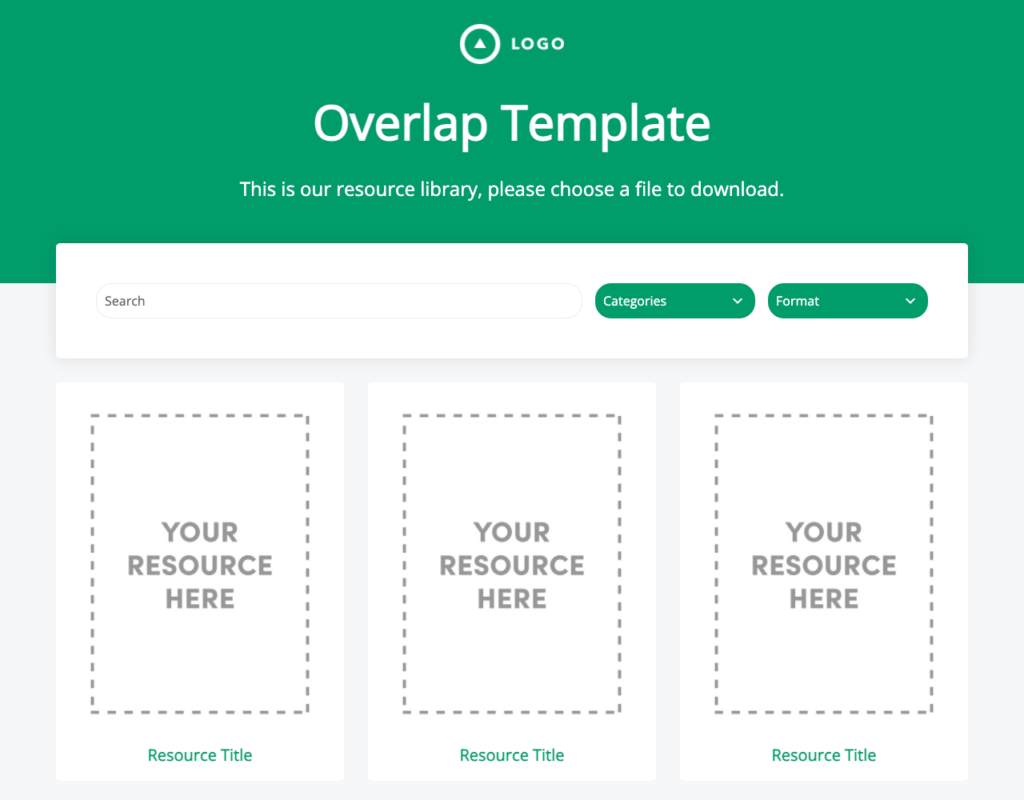 A simple grid layout makes your library easy to browse and the customizable colors are a quick way of enforcing your brand identity.
Time To Build: 20 mins
Once you upload your files to Beacon all you need to do is customise the colors and add descriptions for each resource.
Benefit: Consistent lead generation
Once you connect the library to your preferred email marketing system you can put your lead nurturing on autopilot.
Example: The Beacon Resource Library
View the Beacon Resource Library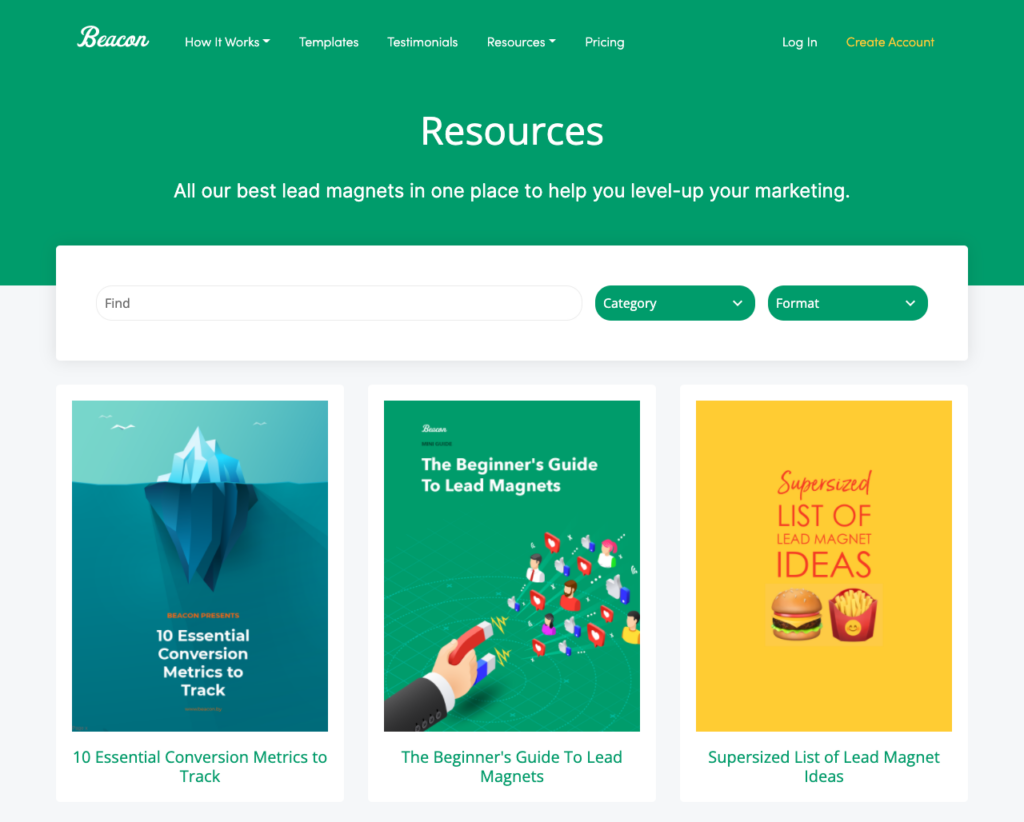 Our very own resource library is powered by Beacon and it helps us to generate leads on a daily basis.
---
#2: Curated Video Library
YouTube is bursting with high quality content in your niche but it's buried underneath a lot of mediocre videos. Take the time to curate the best content in a single library for your audience.
Recommended Template: Fade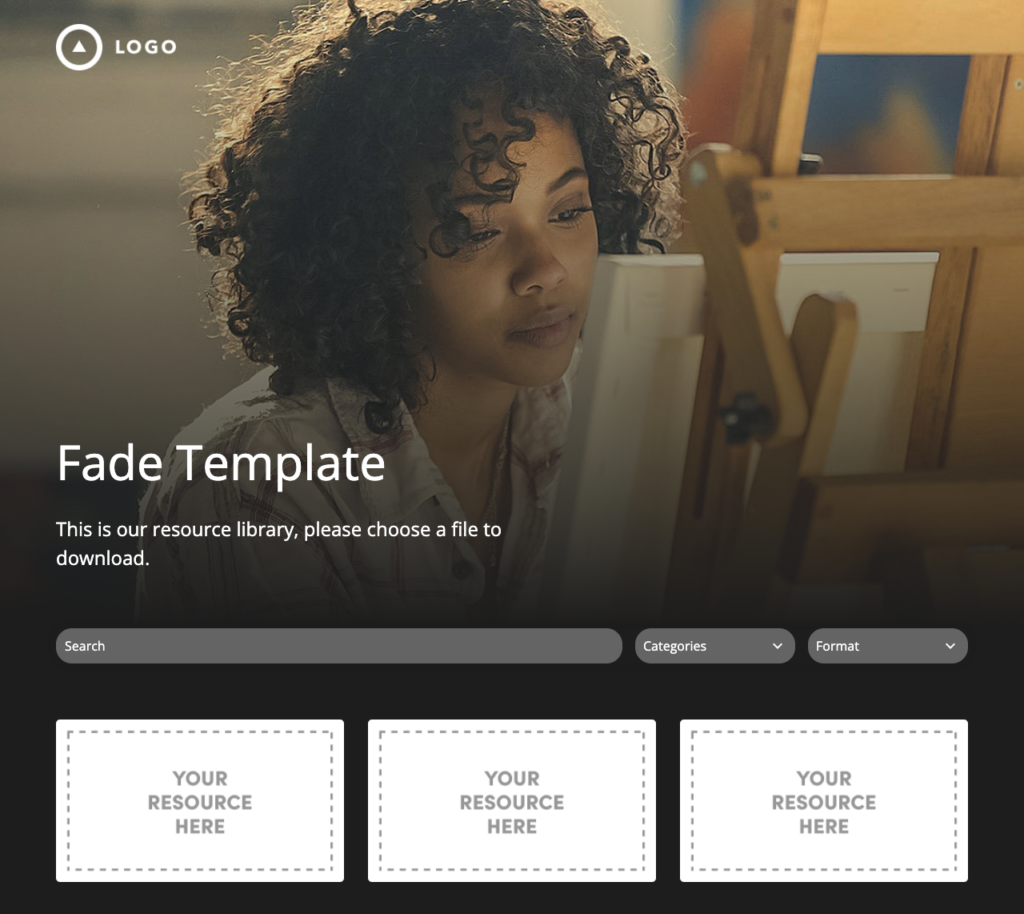 This template has a definite 'Netflix vibe' to it so your audience will feel right at home when browsing the videos.
Time To Build: 30 mins
Since you're not actually creating these videos your time will be spent finding the best quality videos and organising them into categories that make sense to your audience.
Benefit: Traffic without producing content
When you embed the video library in your own website you attract people to your site without having to actually produce all the content. You add value to the original content by categorising it in a way that makes sense to your audience.
Example: The SEO Index
View The SEO Index Video Library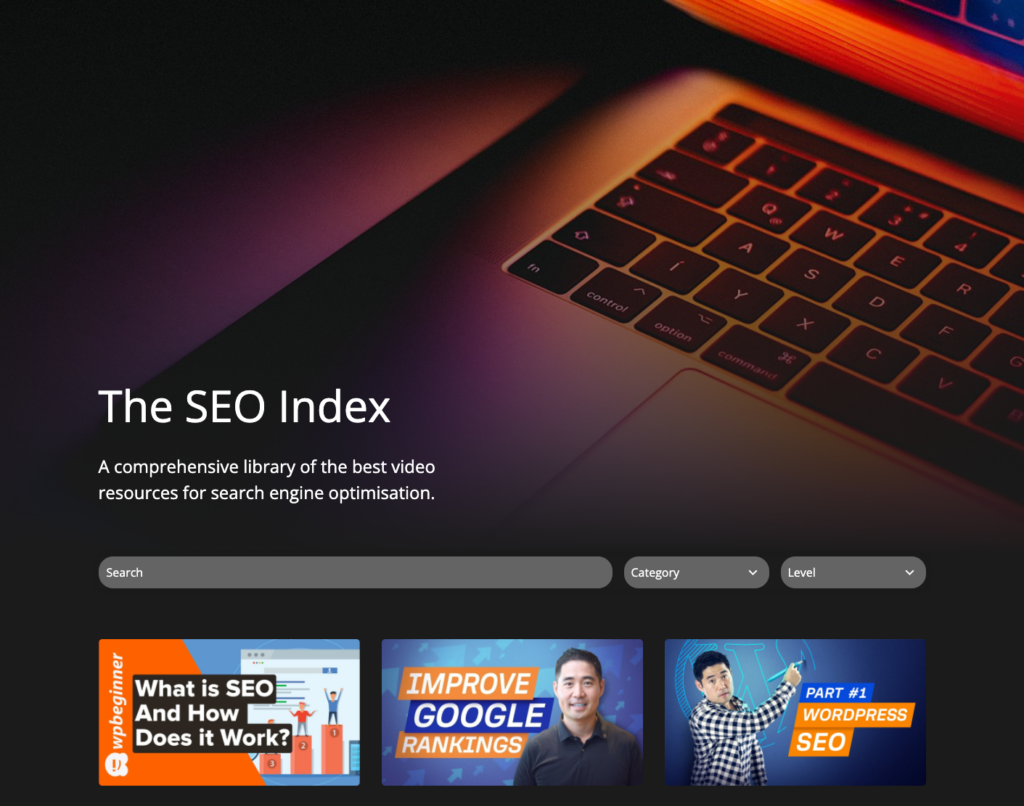 I picked the best SEO tutorials for YouTube and organised them into sensible categories for easy browsing. I can keep adding to this library and it will grow in value over time.
---
#3: Content Round-Up
Between blogging and social media updates it's easy to forget just how much content we produce. This can be overwhelming for new customers so why not curate some of your best content into a neat round-up package?
Recommended Template: Circle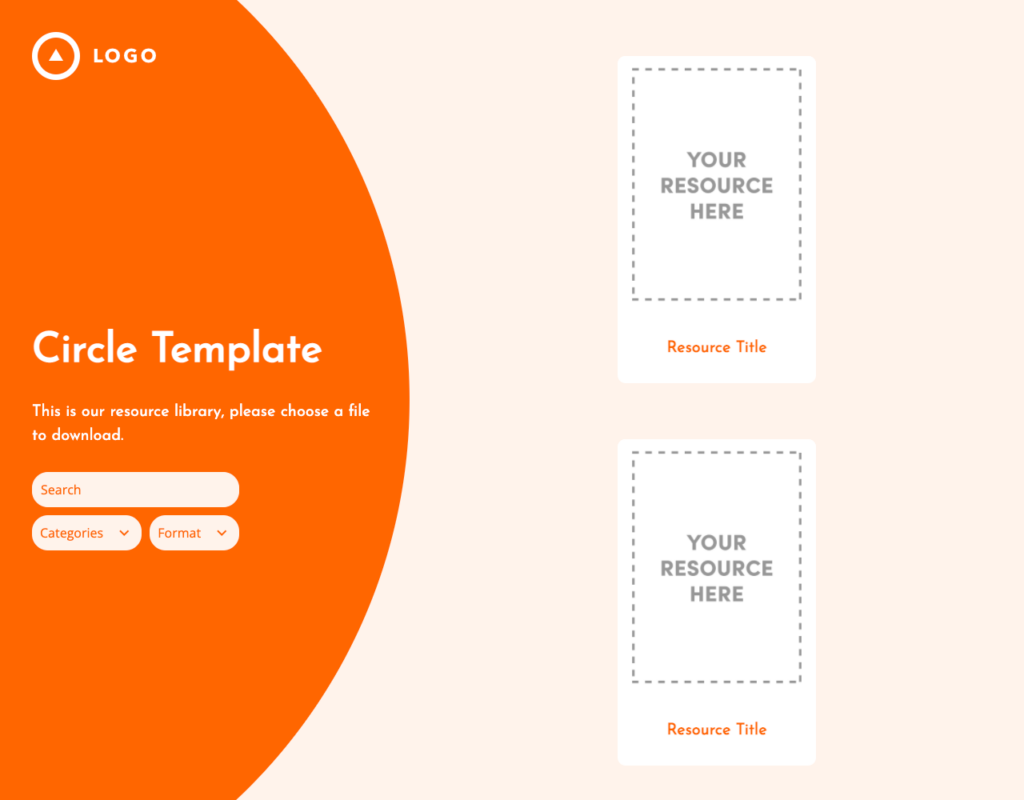 This template uses plenty of whitespace so each individual resource gets maximum focus.
Time To Build: 15 mins
Since this content already exists all you need to do is customise the template to suit your brand. Easy.
Benefit: More Traffic For Old Content
Traffic naturally decreases as a piece of content gets pushed further down the blog archives. Give that legacy content a boost by creating hyper-targeted content round-ups and sharing them in various online communities. Remember, a good package of related content is more than the sum of its parts.
Example: Birchbox Curly Hair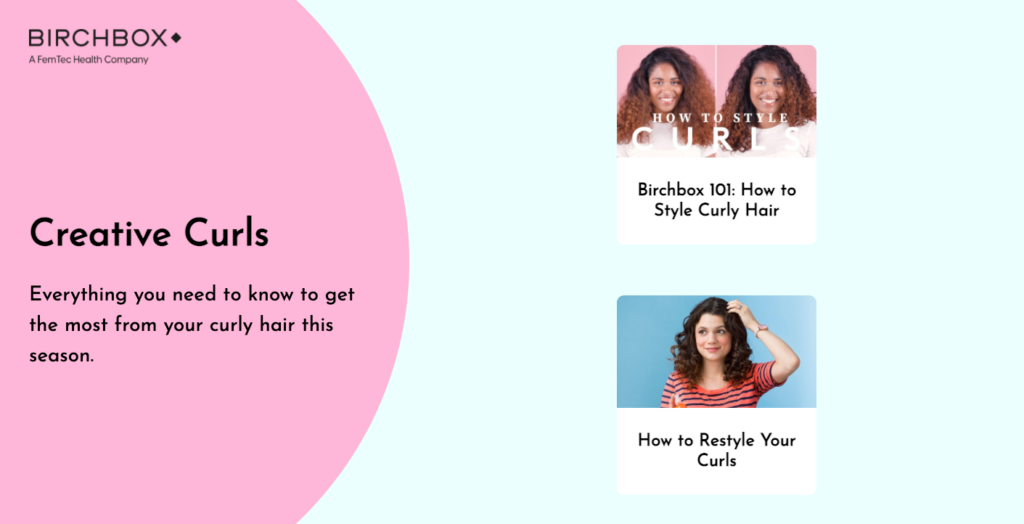 Birchbox is a consumer brand with more than 885 pieces of content on their blog. I made this Content Round-Up with articles specifically about curly hair for use in a product specific marketing campaign. As a bonus I mixed in some user generated content from YouTube.
---
#4: Customer Content Pack
Let's say a potential customer has asked you a bunch of questions about your product. Instead of sending them 4 links to various pages, articles, eBooks and videos, why not just send them a tidy Content Pack that has everything they need?
Recommended Template: Hub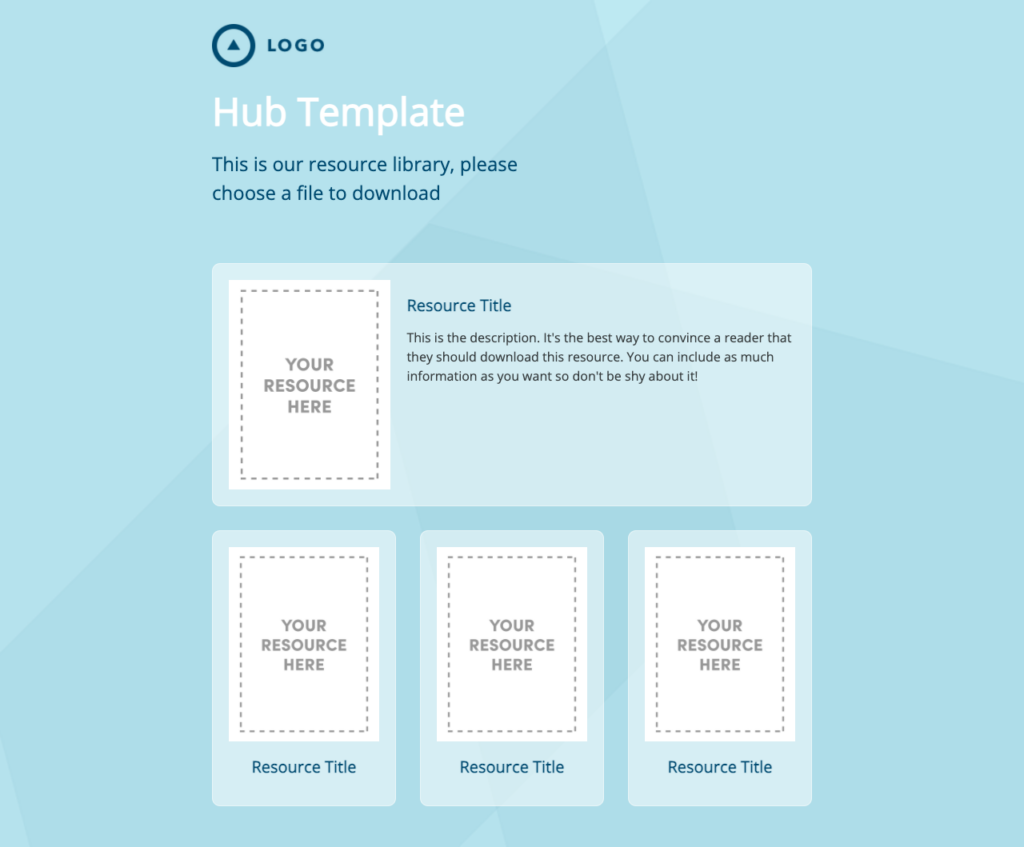 This template is fairly compact so your prospective customer can see all resources at a glance.
Time To Build: 10 mins
Spend some time adding a personal message to the top of the page so your customer knows this page was made just for them.
Benefit: Personalized Sales
It may have only taken you a few minutes to put this content hub together but your customer doesn't know that. To them this personalised package of content is a nice touch that helps to build trust.
Example: Integration Guide
A customer recently asked me for more information about our ConvertKit integration so I sent them this page. It's a collection of the most relevant content from our website, our help docs and ConvertKit's documentation. Now the customer can refer back to this personalised guide throughout the setup process instead of jumping between multiple sites.
Creating Your Own
If this post has inspired you to create your own Resource Library then just jump on in to your Beacon account and select 'Create New Resource Library':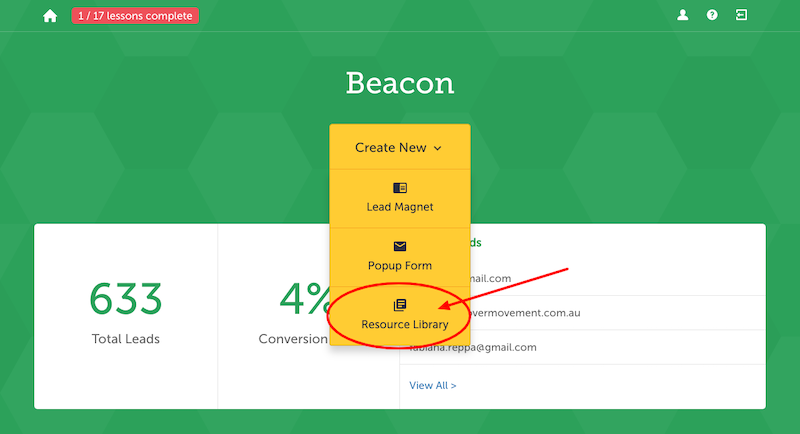 Next, choose your template: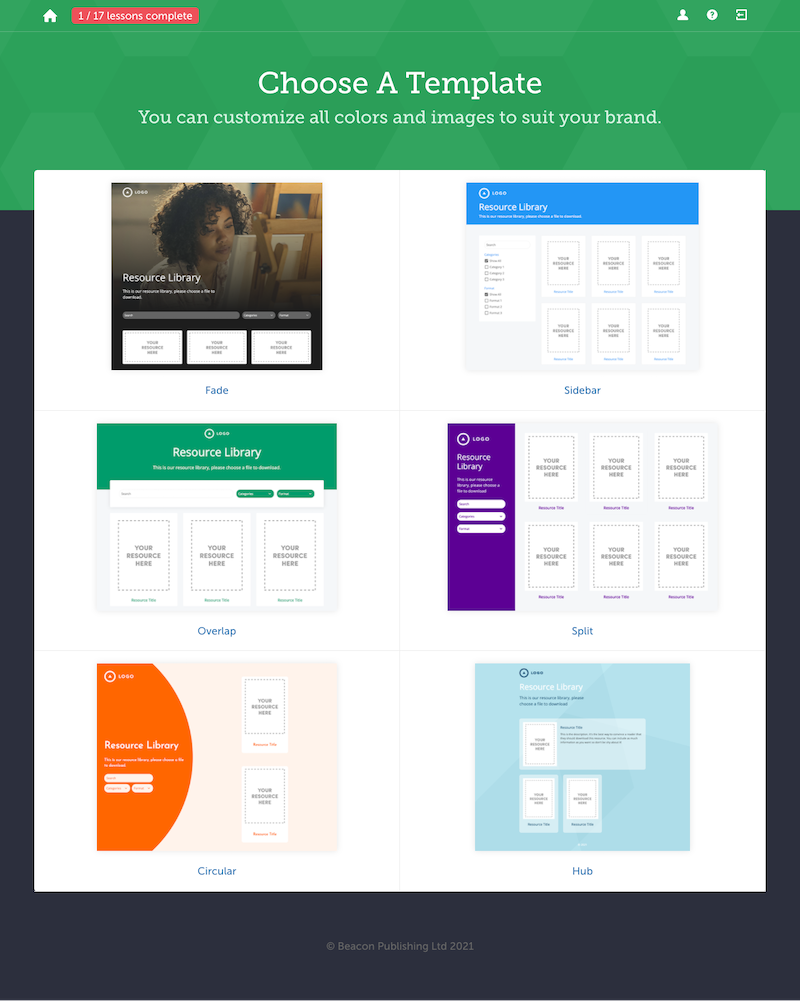 And finally fill it with your own content and resources: