5 Simple Tricks That Will Immediately Boost Your Lead Magnet's Call to Action Conversions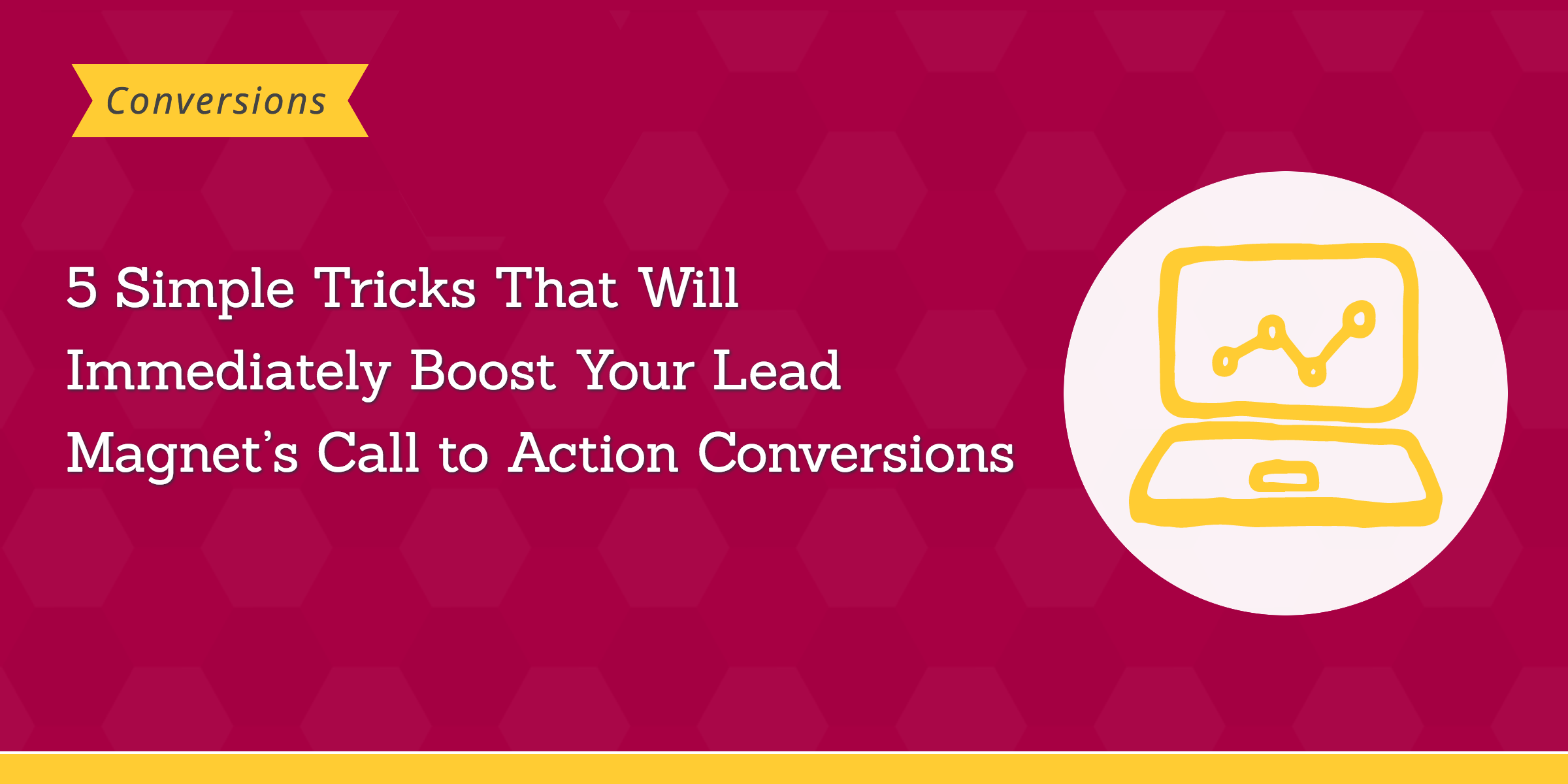 Honestly…
All those success stories from businesses boasting about their high conversion rates are so irritating, aren't they?
Especially when, in spite of having done everything by the book, you still struggle to get people to click on your calls to action.
But what if I told you that you could improve your conversion rates by making tiny tweaks to your calls to action?
I'm sure you'd be pretty stoked, right?
That's exactly what we're doing in our latest post. We show you 5 super-simple tricks that will immediately boost your lead magnet's calls to action conversions.
Intrigued? Read it right now.
#1. Increase the Contrast Between the Call to Action and the Rest of Your Website
I'm sure you'll agree:
It's so tempting to use branded colors on the call to action.
It makes it unified with your brand and immediately reassures a visitor that it's not spam, right?
But it also makes it less visible on a page.
You see:
Such call to action will blend with the other elements on your site, resulting in many visitors not noticing it while they skim the page.
Just take a look at the example below. The site displays a lead magnet call to action set in the same color scheme as the rest of the site, making it almost indistinguishable from the other elements.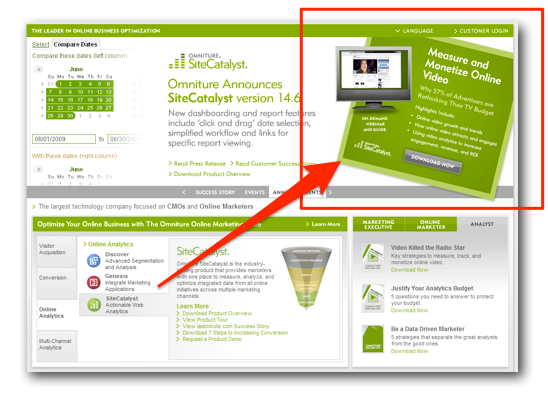 Now compare that with an example of a call to action using strong contrasting colors: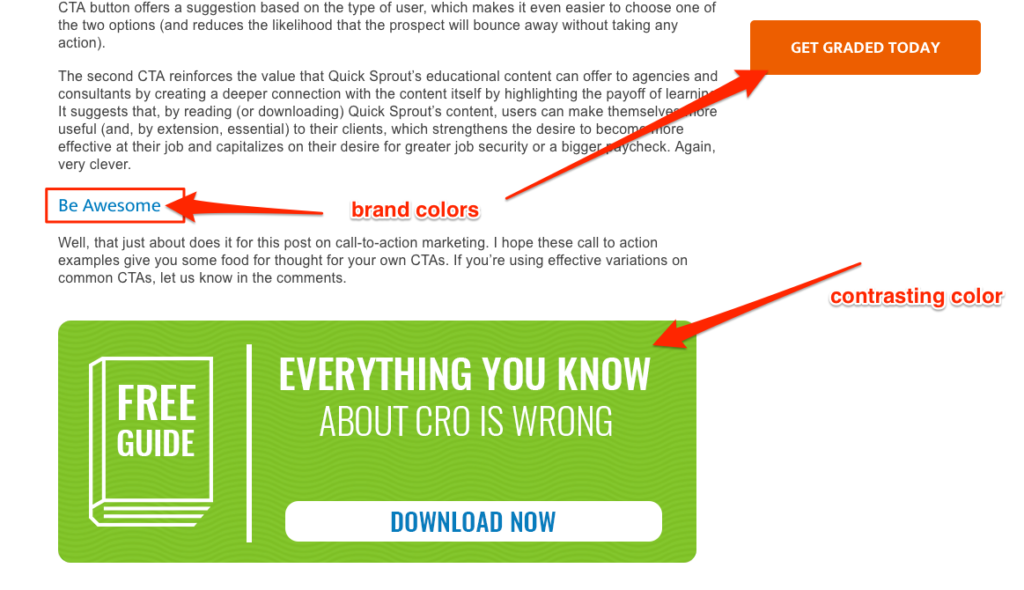 The difference is astonishing, isn't it? You immediately notice it on the page. And what's more, pretty much ignore any other elements around it.
As Peep Laja confirms in his article fantastic article on Conversion XL:
"We pay more attention to things that are in contrast to other things."
To select contrasting colors that would work well with your branded ones:
Open Adobe Kuler, a great free tool that allows you create color palettes.
Select "Complimentary" from the Color Rule menu. This way, the tool will help you select colors directly opposite to your branded colors on the color wheel.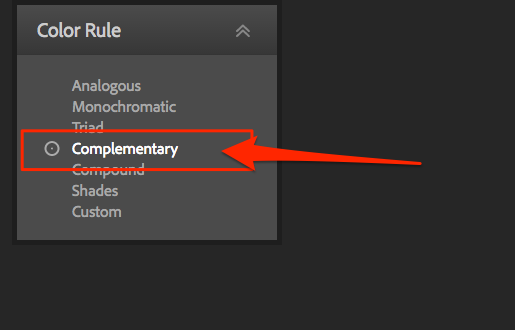 Type in your branded color's HEX code (this is the code you use to describe it in HTML) in the left color box. Alternatively, use the color's RGB values.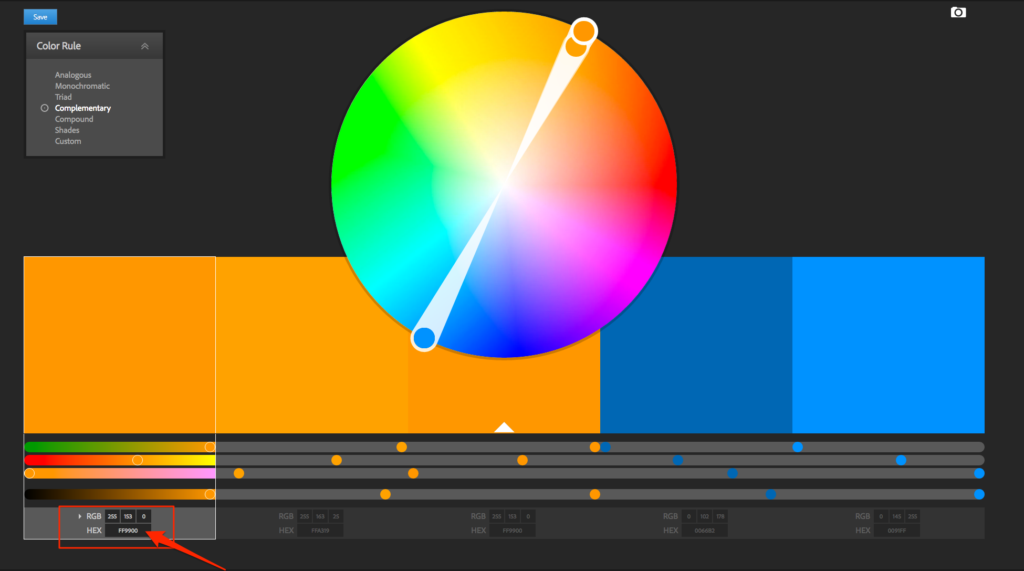 Once you hit enter, the tool will display colors directly on the other end of the color wheel, creating a contrasting color palette.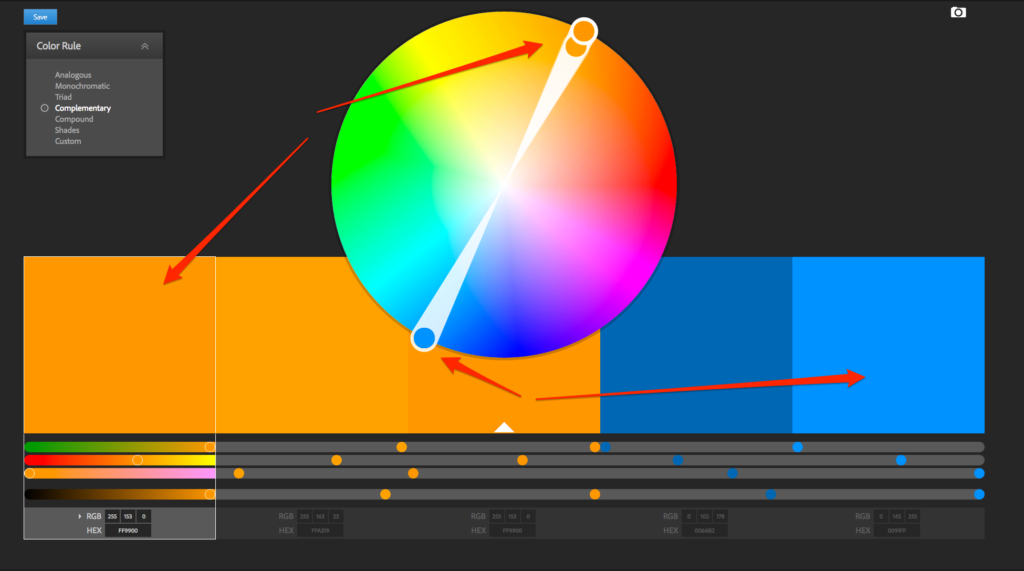 You can use those opposite colors to create a contrasting call to action that will still work with your brand.
#2. Write Direct Button Copy that Tells a Person Exactly What to Do
Here's a common dilemma:
You want people to download your eBook or a checklist.
But by all means, you don't want to sound pushy, sleazy, intimidating…
So, you write a call to action button that focuses more on what the person would get by clicking it, rather than what they need to do to get it…
…and you leave a visitor scratching their head in confusion, wondering what exactly do you want them to do.
However, the goal of the call to action button isn't to convince someone to the value of your lead magnet.
It should only tell visitors what they need to do to get it.
As freelance writer, Julie Neidlinger points in her post on the CoSchedule blog:
"Whatever form it takes, and wherever it appears in your content, a call to action is you providing your reader with some form of actionable task and usually appears as a button, link within text, or an image of some kind."
Therefore, create short and actionable button copy that tells your visitor what they need to do. For example: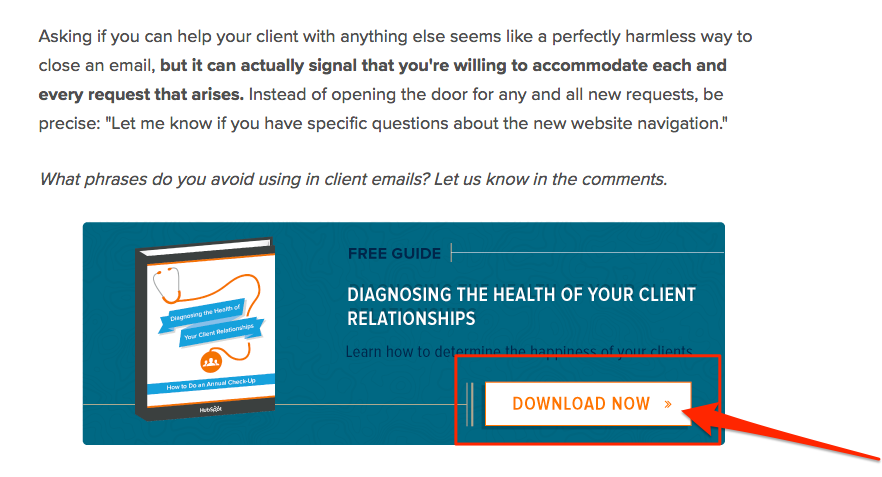 #3. Use Bulleted Lists to Quickly Communicate Benefits of Getting Your Lead Magnet
Fact:
We no longer read the web copy.
Even if we go beyond the 20% of words on a page most of us look at, we skim the rest nonetheless.
And I'd imagine, we pay even less attention to calls to action.
At the same time, to convert a visitor, your call to action needs to make it clear why they should download your lead magnet. I'm afraid, just stating the title or its topic won't cut it.
The solution? Use bullet points to list all the benefits of getting your eBook.
Scott Martin, a direct response copywriter, beautifully sums up the benefits of using lists for conversions in this post on Crazy Egg:
"Bullets are simply short, bite-sized pieces of copy that focus the reader's attention on key features and benefits. They break up dense chunks of copy so it's easier to read and digest the copy. After the headline and the subheads, they can be the next part of the copy that people read…so they're especially important to your conversion rate."
#4. Include Social Proof
Social proof is so powerful, isn't it?
Just the sheer fact that someone else has used a product, or hired a company helps you make a decision about doing the same.
That's because, for the most part, we rely on the opinion of others for decision making.
As I wrote in my guide to social proof marketing earlier this year:
"We simply assume that if many people are doing something, have done something or believe in something, there must be a good reason why."
And so, we imitate their behavior.
But what's important, you can use it to evoke a similar reaction from your web visitors.
By displaying social proof, you can help a visitor make a decision to download your lead magnet.
The best types of social proof to use on calls to action include:
The number of downloads or subscribers to your list.


Quotes or testimonials from satisfied customers or leads.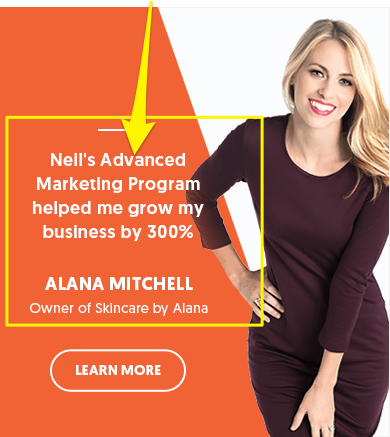 #5. Shorten the Journey to Conversion
I admit:
I'm all for having a dedicated landing page for a lead magnet.
It allows you to reiterate the benefits of downloading the lead magnet. Plus, you can feature a much longer form, qualifying your leads in the process.
But here's the catch:
Sending visitors to a landing page extends their journey to conversion. And what goes with it, increases the likelihood of them dropping off.
So, if your current calls to action point people to landing pages, consider testing an option where a person could sign up directly on the CTA.
Change your call to action from being a gateway to a landing page, like this one…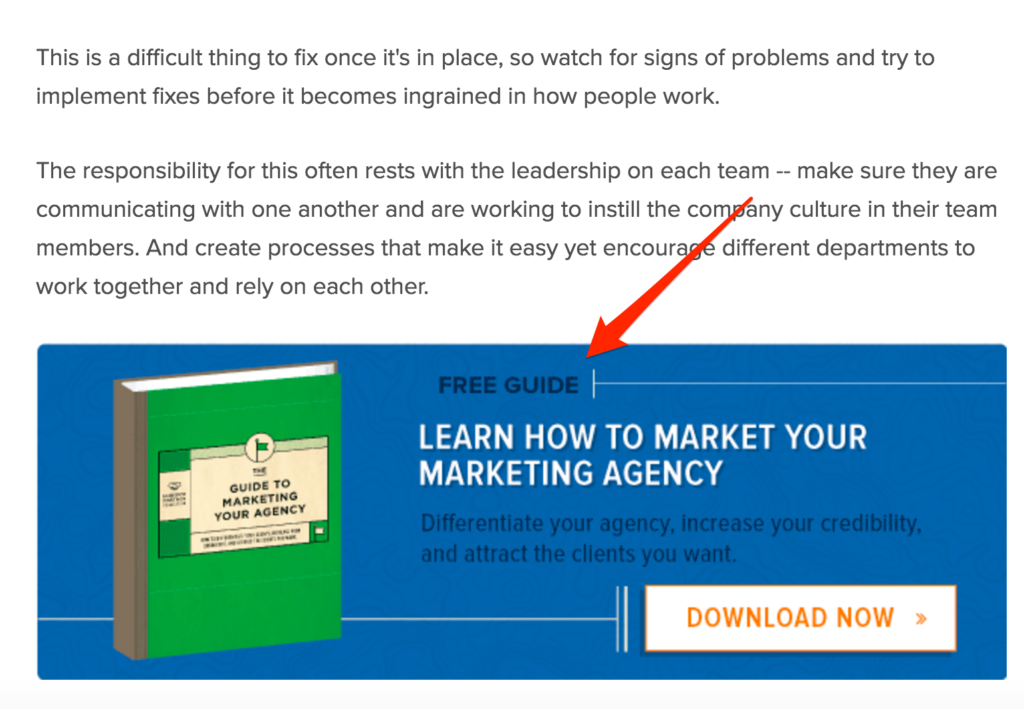 …to one that allows visitors sign up directly on the page they're currently viewing.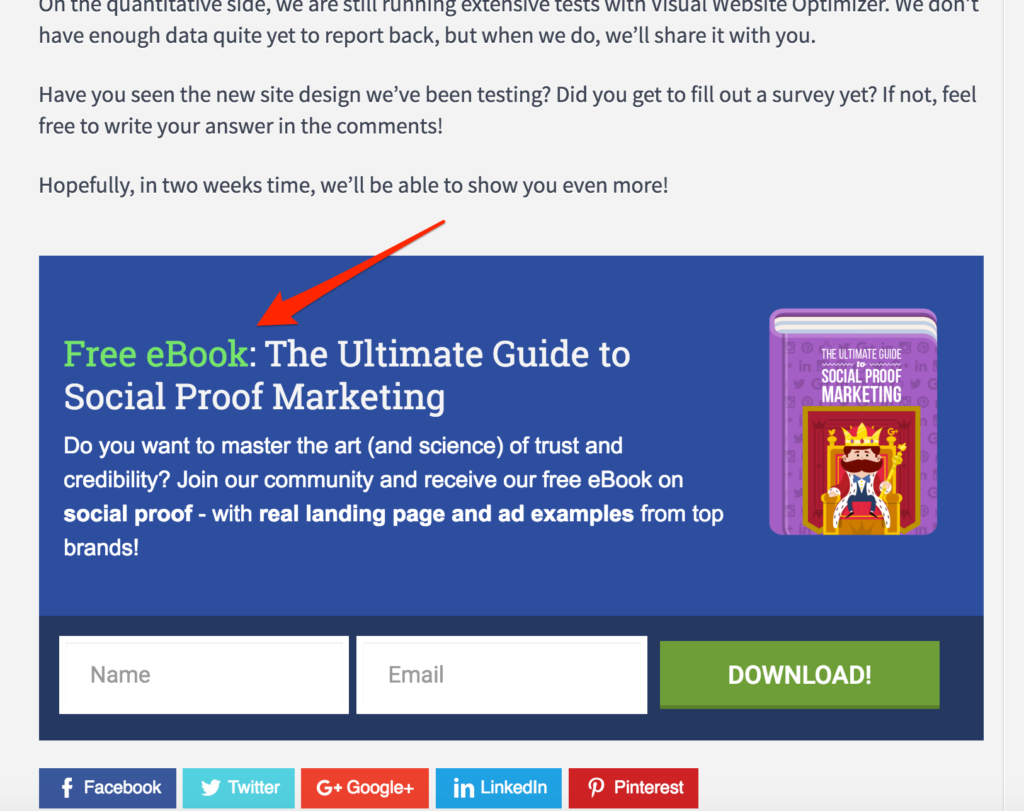 Note, the same strategy could work for any other call to action types, popups, slide-ins, and even a Hellobar/ribbon.
The key to this strategy is to reduce the number of steps a person needs to take to convert.
Because you see:
Sometimes the sheer fact of having to visit another page might deter a person from taking action.