What's in Your Marketing Toolkit?

Every profession has its tools: plumbers need excellent pliers, chefs need killer knives (no pun intended), and marketers need … Well, what DO we need?
There are practically a thousand different available tools for today's digital marketing professional to choose from, whether they promise to generate leads, save time, or improve SEO–and plenty of them call themselves indispensable. So what do you actually NEED?
To simplify your life, we've used this post to put together some of our own tried-and-true tools: these are the things that in one way or another saved us when we were at a loss for how to solve a particular problem. We highly recommend them all.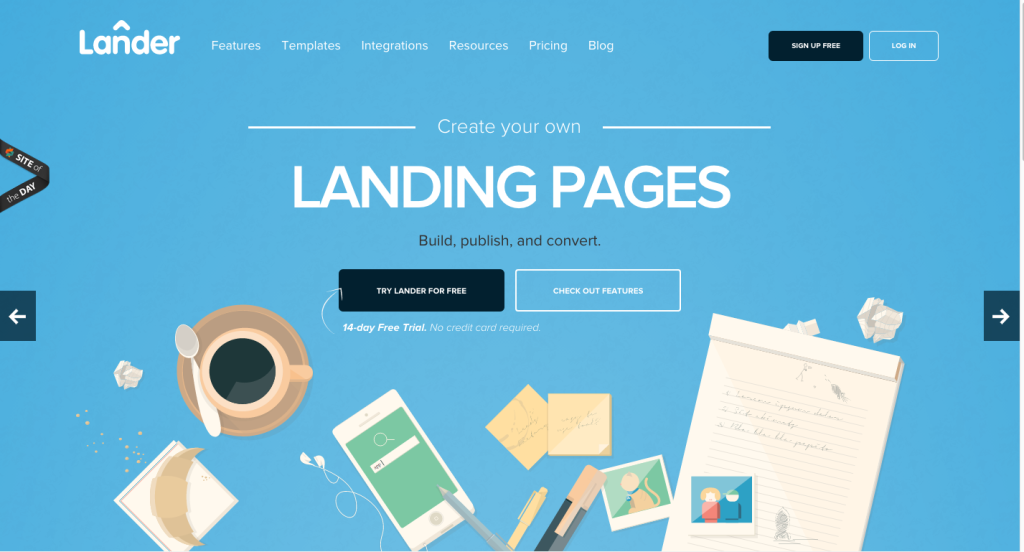 Lander
The first thing potential customers come across is the landing page on your website. If it's old-fashioned, hard to understand, or boring, it's game over. Lander's landing page templates not only look good, but are also designed for conversions. The wide range of templates means that you'll easily be able to find a design that fits your company's branding, products, and ethos.
Website: https://landerapp.com/
Price: Chose pricing based on the number of visitors you wish to welcome to your site. Packages range from $22 per month – $97 per month (plus a 14-day free trial). There are also options for those who require more than 100k visitors.
Why we love it: It's easy to use, conversion rates increase dramatically, and it looks fantastic. A must-have!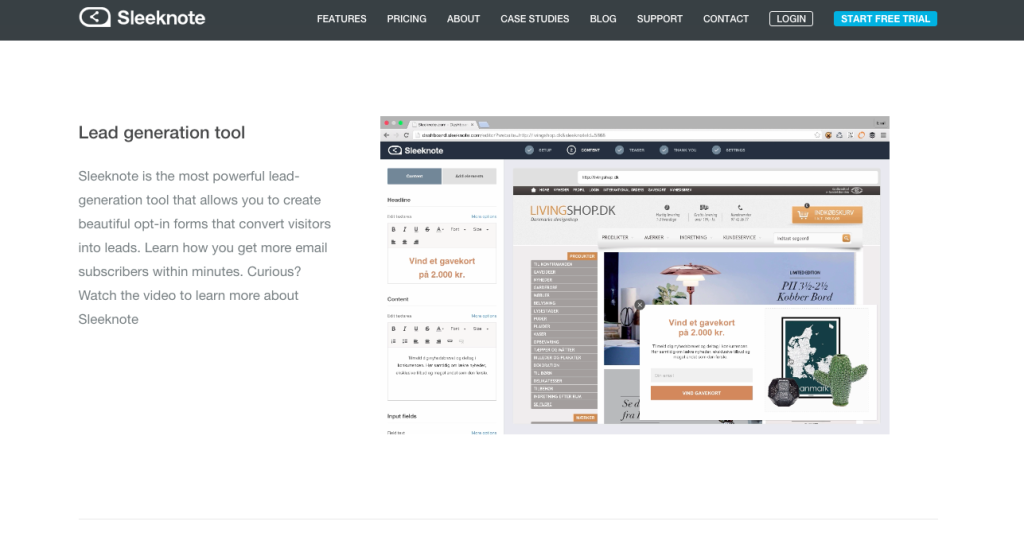 Sleeknote
Sleeknote is a powerful lead generation tool that grows your email list. Converting website visitors into email leads suddenly becomes easy, thanks to the beautiful opt-in forms that you create using this service. Sleeknote is fully integrated with all website and ecommerce platforms and works with all major email marketing software. It doesn't get much more convenient than that.
Website: https://sleeknote.com/
Price: Chose pricing based on web traffic. Packages range from $69 per month to $749 per month.
Why we love it: The interface is incredibly intuitive and easy to use. If you want friendly, helpful customer service, these guys will deliver it!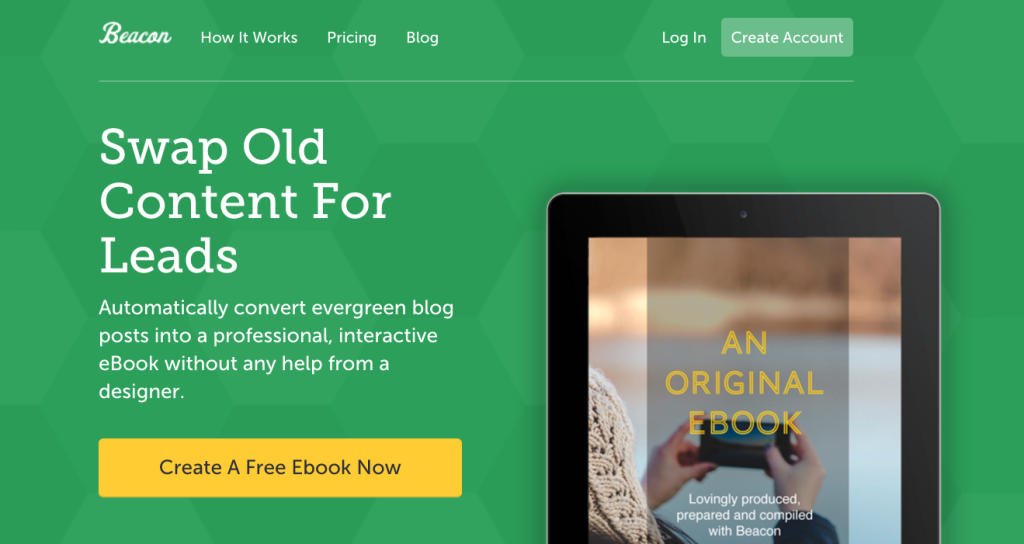 Beacon
Ok, so we HAVE to toot our own horn a bit here, because our product just happens to be a lifesaver.
Lead generation is essential for a business to thrive, but attracting visitors to your website and getting contact details is time-consuming. Research has shown that eBooks are the perfect way to engage potential customers while telling them something useful about yourself or the industry they've shown an interest in. But who has time to write an eBook? Thanks to Beacon, the answer is everyone! With this clever WordPress plug-in, you can convert blog posts into professional-grade eBooks in a matter of seconds. Ninety seconds to be exact.
With a huge range of templates, colour palettes, fonts and stock photography, you will be able to produce eBooks that truly represent your business. Repurposing content is excellent for SEO, as well as generating leads.
Website: https://www.beacon.by/welcome
Price: Chose pricing based on the number of eBooks you want to produce. Packages range from free to $29 per month. You can claim a 50% discount here.
Why you'll love it: It makes your job easy, quick and fun. If only everyone could say that about their profession!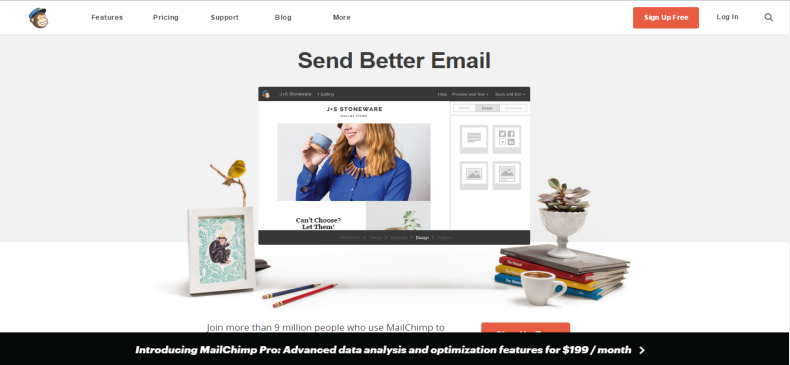 Mailchimp
It's the most popular email marketing service provider, and deservedly so. The drag and drop designer allows you to create campaigns that are right for your business. The range of templates is perfect if you're under time pressure. One of our favorite features is the ability to segment leads so you can tailor your message to your audience. You can create automated workflows so customers receive your messages at the right time.
Website: https://mailchimp.com
Price: Chose pricing based on the number of emails you want to send. Packages range from free to $35 per month (plus subscription).
Why we love it: You can stay on top of your email performance with the engagement reports. As if that wasn't enough, you can connect with Google Analytics and track the ROI.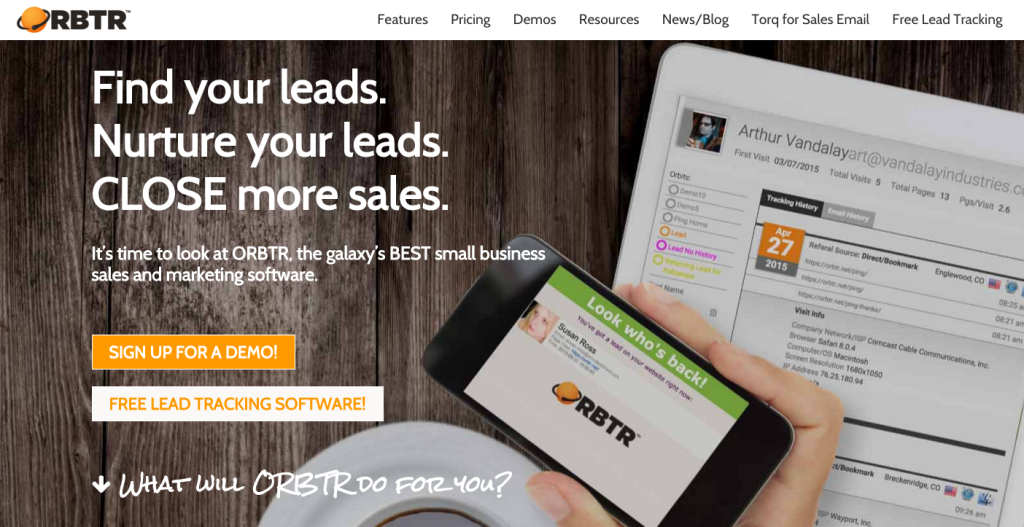 Orbtr
Orbtr is a clever tool that does what every small business wants – it helps you find and nurture leads, and then close the sales. You'll receive tracking data for all website visitors (information can even be provided for anonymous visitors) that can be used for email marketing and follow-ups. Real-time email notifications when leads return? Got it. Want your website to choose appropriate content based on who's reading it? Sorted.
There really is so much this WordPress-based marketing tool does that it's best to schedule a free demo from the team. Prepare to have your mind blown.
Website: https://orbtr.net/
Price: Packages range from free to $990 per year.
Why we love it: Anything Orbtr doesn't do has been taken care of thanks to integrations with more than 400 popular applications. An essential tool for every small business.
Have something ask us or a great product to recommend? We're always open to ideas! Leave us a comment below or tweet to us!