The Beacon Cure for One Marketer's Bad Case of eBookitis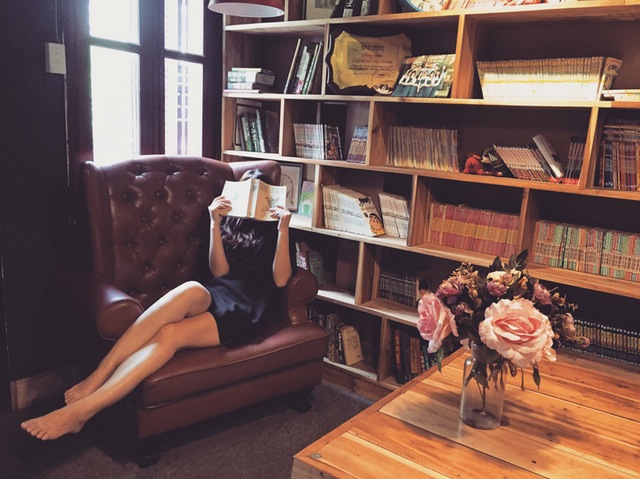 This guest post by
Sue-Ann Bubacz
is the first in a series of 4 where we ask one of our customers to document how they use Beacon in a marketing campaign.
I've got a bad case of eBookitis.
If you're already using the Beacon eBook software plugin, you're likely suffering too. The endless possibilities for content marketing uses, alone, is enough to spike a fever.
If you haven't tried Beacon yet — and you want to create an eBook — sign up for the free option and test it out right with me.
You can thank me later—when you've come down with a full-blown case of eBookitis too!
Now Let's Talk eBooks
Everybody loves them. And, almost everybody wants to produce one.
The thing is—because everybody loves them—there's no better time than now to create your own eBooks.
Luckily, Beacon makes it easier than you can possibly imagine to produce eBooks til your little heart's content.
And that's where I come in.
I'm Sue-Ann, a boutique business owner and content writer for businesses. And now, I'm teaming up with Beacon to talk all about my eBooks writing experiences and plan to share all kinds of everything eBook with you. Yay!
In a series, I'll tell you all about the in's and out's, the how-to's, the what and why of eBooks.
Spotlighting Beacon's features and functionality, I'll take you along with me as I go. I'll be sure to share lots of tips, tricks, tools, and updates you'll want to know about and use.
If you don't have a Beacon account, sign up here now, and we'll get started.
eBooks Are Not A Toy
Playing with your new Beacon tool seems like the only thing to do, and yep, I don't blame you. Jump in and feel your way around. I know I did and who can help it?
But, you may want to step back before hitting the publish button, for a second.
I know this because I'm guilty, guilty, guilty and prematurely hit publish in my excitement—my head in the eZone of Beacon book making happiness:)
I figured out mega things in my first two weeks journey, even documented the progress on my blog. But, that's also how I discovered, and know, I messed up, and why I recommend you take a second before you hit the button on your first piece of work.
First, consider the versatility of eBooks in your marketing and content marketing efforts and their role in achieving goals for your business. Where will an eBook, eBook series, or any use of an eBook, serve you best?
Lead magnets or content upgrades are the first thing that comes to mind for marketers, but truly, the possible uses for eBooks in your marketing toolkit are unlimited. Especially if you throw in a little imagination and creativity.
First, though, keep your feet on the ground and stay with me a minute more, before you float off to the brainstorming clouds and get ahead of yourself like I did.
Instead, do yourself a favor and do these things first:
Create an Overview of your eBook Campaign
Determine an Overall Strategic Position to Build a Framework or Guideline
Set a Purpose and Objective within your Framework (and on a project level, too)
Develop Your Branding Strategy: physical, intellectual, abstract
Refine Your Rhyme and Reason
Recheck and Ramp Up
Plan, and you'll get better results, that's the ticket, I guess.
Now For The Why And How
The Overview
Creating an overview of your eBook marketing campaign starts with taking a broader look at things, and then, defining your "reason," giving an overall direction and perspective to your plan.
Figure out the "why" for creating and using eBooks in your business or marketing strategies, in this first step. Figure out all the "whys" in fact, and then narrow your direction until you are clear and concise in stating the scope of your project.
Check out How to Create a Content Mission Statement with 4 Simple Templates
by Andy Crestodina of Orbit Media Studios and get a clear idea of exactly how to do this, on a content mission level, which of course, aligns with the overall company mission and vision.
Hint: I find Andy and his site to be a fountain of information, helpful for anything website!
Strategic Position
Establishing your strategic position at this point sets up a framework, acting as a guideline to help you maintain consistency in your eBook efforts.
Your strategic positioning gives you structure, a foundation on which to build your eBooks as content assets. At the same time, it sets up your purpose and a consistent scope to envelop your messaging, in this case, via eBook.
Purpose and Objectives
Defining goals or setting KPI's (key performance indicators) solidifies with clarity your objectives in producing/writing/creating your eBook properties.
Writers work with "One Big Idea," sometimes referred to as the power of one particularly for blogging, article, and persuasive writing and knowing your purpose and objective does the same.
Align your "big picture" objectives with those at the individual project level but, your best work comes from setting up a clear focus on the project level, within the larger umbrella of content.
Results driven content evolves from work with a clear focus. Ask yourself, "what am I trying to achieve and how will I get there?" Then take it up a notch by thinking, "how will I get my audience there?"
Hint: You know you have to track and test to increase the likelihood of getting the results you want.
 NOTE: Deeper dive and further discussion on this eBook topic to come later in this series.
Branding Strategy
Overall, branding is a huge strategic plot and an ongoing study for businesses and yet another factor worth considering for your eBook marketing plan. Recognition is a key component–and what you are after–in creating a positive brand identity.
From physical characteristics, like colors and logo design, to abstract ones, like voice and culture, to intellectual properties and processes, branding is one of marketing communications biggest jobs.
Remember to put your face (branding) on your eBook creations!
No doubt this topic will continue to be part of every discussion around creating eBooks, especially if you want them powered with impact. But for now, I'll give you just one important topic to look into further.
This mega-popular piece of work by Ashton Wirrenga of CoSchedule gives you a detailed and comprehensive look at color psychology in marketing. Take a look because you're bound to learn something you can use for your eBook designs.
Whatever the purpose in creating your eBooks, you want to attract people to see/read/use/share and engage with your brand so why not add a little colorful perspective in your pre-launch research and planning stage?
No matter what, you want your branding strategy to be:
Consistent
Recognizable
Unique
Rhyme and Reason
You need some.
In my excitement and haste to hit the button and present an eBook version using my fun new Beacon tools, I may have skipped over the advice above to some degree or another. (At least the first three weren't foremost in my mind!)
Still I had a concept I was working on for awhile so in a way, the first three e-books presented for the NEW Skills Building eBook Library fit perfectly.
Further, my first experimental eBook using an already published post from my WordPress site (using Beacon plugin) was on the topic, Headlines, a fitting opening topic, I thought, for the first edition to the resource library.
Is a library with only one book a library?  I wasn't sure.
So, I needed to get an opening group of work presented on my website for readers and realized, conveniently, I had two successful pieces of content to work from, offering an "eBook Parade" with an Introductory Trio of Super Starter Resources. 
Using a Guest Blog Post, written and published for kikolani.com (Kristi Hines' popular marketing/writing site) and an introductory Cornerstone Content Page from my site, I added updates, revisions, introductions and completed the awesome trio. Two weeks to a mini resource library, ready to go. Yay!
Beacon Makes it Easy
Maybe you noticed, the last two eBooks are NOT from already published posts from my site. It's a simple matter of copy and paste—from my WP page, or the web!
Three completely differently designed (beginner to improving with each) eBooks turned into a sample and example for my blog readers. Staying cohesive by offering them as a "starter series" of topics brings a dual purpose and meaningfulness to the virtual library's first resources and to my audience too.
Allowing myself more time to work on my final (overall) design plan while showcasing possibilities and options for readers, I'm able to twist my leap before I look mistake into a study, into action, and into a future plan, on the fly. Thanks, Beacon eBooks:)
Hint: The real point here is that rhyme and reason are always appropriate. They belong in your eBook marketing plans and strategies. And, beyond my personal example, you'll want rhyme and reason to be part of design concepts, use of CTAs (calls-to-action), landing pages and content creation, even. 
Recheck and Ramp Up
It's critical to measure and record, test and evaluate and closely monitor results. Don't worry; Beacon gives you analytics for your eBooks to help you out.
Your Beacon dashboard gives you analytics on each eBook like this:
Besides devices used and total visits, (unique) you get an average time spent, an important measure for engagement.
Page breakdown gives you both views and visitors so you can track how far along your audience makes it, and also you can take a close look at whether your CTA page is getting notice. In my case, that page is "Content Creation Hogging Your Time?"
Further, you can even take a look at traffic sources.

It doesn't hurt to recheck yourself against the above recommendations as you build your platform and introduce content, like eBooks, into your marketing mix; and, before you move from plan to action! But…
One of the most exciting things about digital marketing is the fast-moving and constantly changing frontier of technology, where digital resides. It offers lots of flexibility in how you do things, and how quickly.
It allows you to stay in constant motion to improve your work and results and to evolve in your methods and delivery. It gives you the opportunity to make changes. But only if you are pro-active, and tweak, test, and most importantly evaluate and update, based on your findings.
Embrace in your biz the same mentality as you require in your website design and become "responsive."
It doesn't matter what you measure—it can be click-thru's, subscribers, new visitors to your site, social shares, or sales figures, whatever—but is does matter you know, specifically, how you will measure whatever selected metrics that matter most.
In the end, develop eBooks with a purpose, align the entire project with the company strategy, and create, write and design individual eBooks with UX (user experience) and desired results in mind.
Ready?
I hope I've given you a few things to work on and think over. Why not do everything you can to enhance the impact of the eBooks you create?
Think of these points as the mechanics for producing eBooks and I can't wait to stop back to talk about how to snazzy it up using Beacon for all your eBook creations.
I'll also share a biggie big list of creative, unique and useful uses for eBooks in your business model and marketing!
Feel free to talk to me in the comments, below.
Talk soon ~Sue-Ann