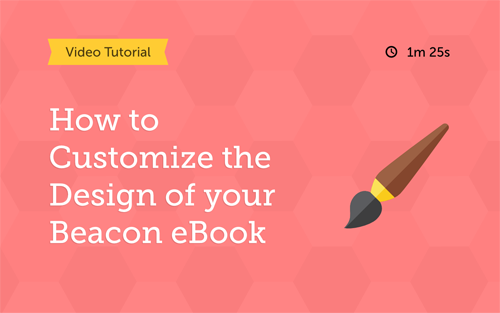 If there's one thing that we've learned about marketing it's that good design amplifies good content.
It makes sense, right? People are more likely to read and enjoy your content if it's well presented. But good design takes time. So we've done the hard work for you.
In this tutorial we will show you how easy it is to create professional eBook designs without hiring a designer.
Our professional designers have spent countless hours combining colours, fonts and layouts that are guaranteed to look great together in an eBook. You can mix and match any of these design options with the click of a button.
If you want us to design a custom theme for your brand just shoot me an email (kevin@beacon.by) and I'll take care of you (for free of course!)
Video Transcript
The design of your ebook is almost as important as what's inside it. By using Beacon's flexible template system you can customise the look and feel of your book without having to hire a designer.
You can adjust layout, colour and font options to quickly give your book a unique look and feel.
Let's start by taking a look at the layout option. You can rearrange the entire page by clicking one of these recommended layouts. Because you don't have to rebuild the page every time you can quickly experiment with styles that suit your content.
Our team of professional designers have created a range of complimentary colour palettes that you can use in your eBook. These colours are designed to look good together so you don't need to spend hours searching for the perfect colour scheme.
Typography is a great way to add personality to your book. The font options in Beacon have all been designed to optimise the readability of your content. Font sizes, line height and type faces have all been crafted to provide a positive reading experience for your audience.
And there you have it. In less than a minute we've transformed a boring page into a beautiful and readable piece of content.